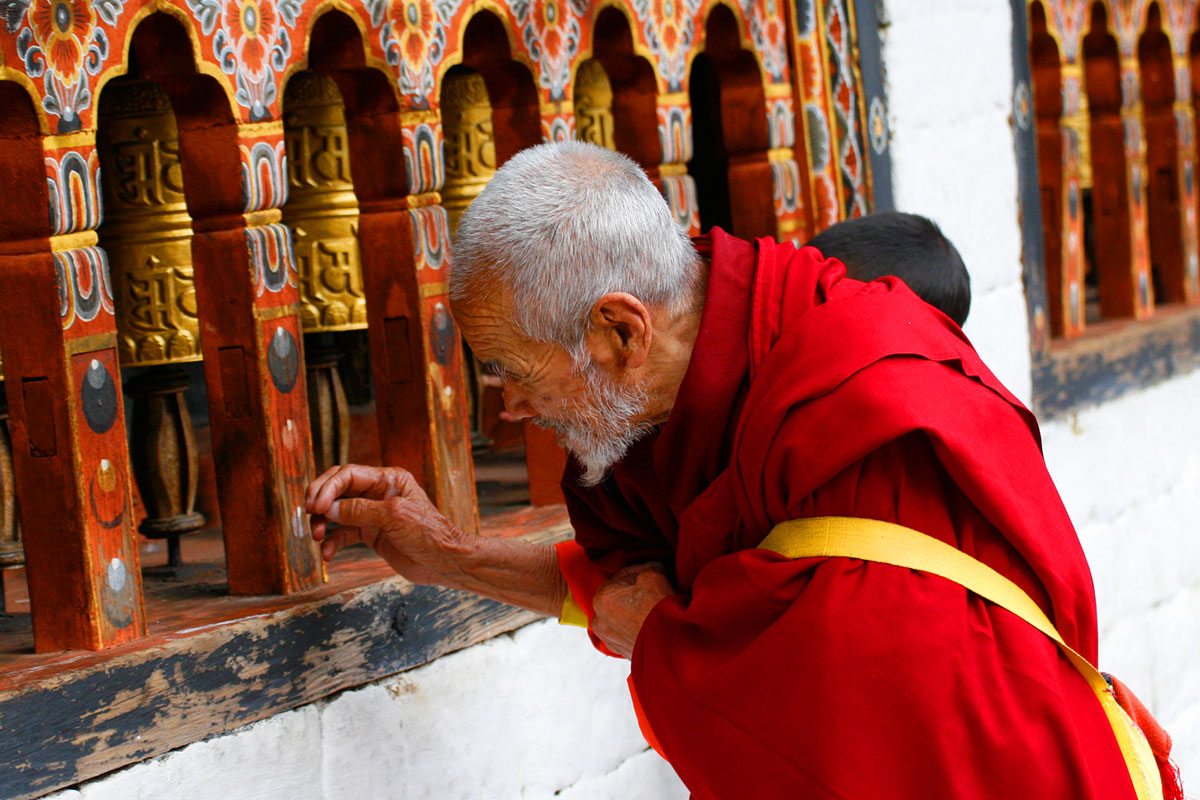 Religion and Society
Buddhism
Bhutan is a Buddhist country and people often refer to it as the last stronghold of Vajrayana Buddhism. Buddhism was first introduced by the Indian Tantric master Guru Padmasambhava in the 8th century. Until then the people practiced Bonism, a religion that worshipped all forms of nature, remnants of which are still evident even today in some remote villages in the country.
By far the greatest contributor was Zhabdrung Nawang Namgyal. His arrival in 1616 from Tibet was another landmark event in the history of the nation. He brought the various Buddhist schools that had developed in western Bhutan under his domain and unified the country as one whole nation-state giving it a distinct national identity.
The Buddhism practiced in the country today is a vibrant religion that permeates nearly every facet of the Bhutanese life style. It is present in the Dzongs, monasteries, stupas, prayer flags, and prayer wheels punctuate the Bhutanese landscape. The chime of ritual bells, sound of gongs, people circumambulating temples and stupas, fluttering prayer flags, red robed monks conducting rituals stand as testaments to the importance of Buddhism in Bhutanese life.
People
The other minority groups are the Bumthaps and the Khengpas of Central Bhutan, the Kurtoeps in Lhuentse, the Brokpas and the Bramis of Merak and Sakteng in eastern Bhutan, the Doyas of Samtse and finally the Monpas of Rukha villages in WangduePhodrang. Together the multiethnic Bhutanese population number just over 700,000.
Society
Bhutanese society is free of class or a caste system. Slavery was abolished by the Third King Jigme Dorji Wangchuck in the early 1950s through a royal edict. Though, a few organizations to empower women were established in the past, Bhutanese society has always maintained relative gender equality. In general our nation is an open and a good-spirited society.
Living in Bhutanese society generally means understanding some accepted norms such as Driglam Namzha, the traditional code of etiquette. Driglam Namzha teaches people a code of conduct to adhere to as members of a respectful society. Examples of Driglam Namzha include wearing a traditional scarf (kabney) when visiting a Dzong or an office, letting the elders and the monks serve themselves first during meals, offering felicitation scarves during ceremonies such as marriages and promotions and politely greeting elders or seniors.
The Bhutanese are a fun-loving people fond of song and dance, friendly contests of archery, stone pitching, traditional darts and other western games. We are a social people that enjoy weddings, religious holidays and other events as the perfect opportunities to gather with friends and family. The openness of Bhutanese society is exemplified in the way our people often visit their friends and relatives at any hour of the day without any advance notice or appointment and still receive a warm welcome and hospitality.